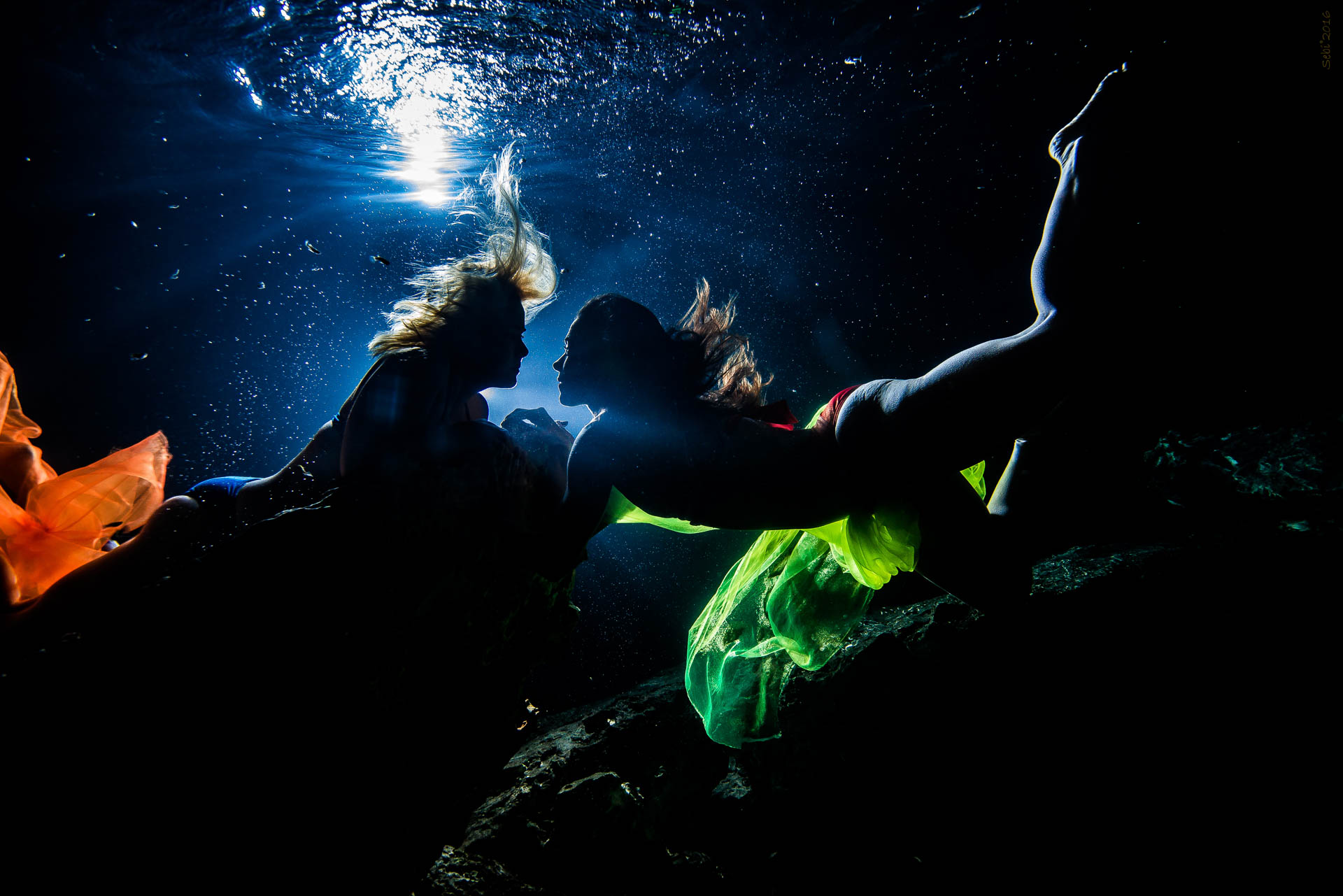 Cuban Models Underwater
Cuban Models Underwater – Liset and Yoandra
Two Cuban models underwater at once. Liset and Yoandra are good friends who have decided to join us for this underwater modeling photo shoot in a beautiful sunny day. They are very different from each other, reflecting part of the great anthropological variety which can be observed in Cuba, due to its complex colonial origins.
Additionally the widespread intermarriage between diverse groups caused a big discrepancy regarding the country's racial composition.
According to the Institute for Cuban and Cuban-American Studies at the University of Miami 62% of Cubans are black, while the 2002 Cuban census found that a similar proportion of the population, 65.05%, was white instead.
The lack of systematic studies led to huge differences in the estimates of the percentage of people of African descent in the Cuban population, ranging from 34% to 62%
Further studies found out the genetic ancestry in Cuba to be 72% European, 20% African and 8% Native American. All the samples were white and black Cubans, but not the population with Asian ancestry.
These latter ones make up about 1% of the population, and are largely of Chinese ancestry, followed by Filipinos, Japanese and Vietnamese. Many are descendants of farm laborers brought to the island by Spanish and American contractors during the 19th and early 20th century.
Afro-Cubans are descended primarily from the Yoruba people as well as several thousand North African refugees, most notably the Sahrawi Arabs of Western Sahara.
In this regard it's quite interesting to know what the Cuban national poet "José Marti" wrote about races back in 1893
"Racist" is a confusing word
and it should be clarified. Men have no special rights simply because they belong to one race or another. When you say "men," you have already imbued them with all their rights. Negroes, because they are black, are not inferior or superior to any other men. Whites who say "my race" commit the sin of redundancy; so do Negroes who say the same. Everything that divides men, everything that specified, separates or pens them, is a sin against humanity. To what sensible white person would it occur to be vain about being white, and what do Negroes think about whites who are vain about being white and think they have special rights as a result? What must whites think about Negroes who are vain about their color?
To insist on racial divisions
on radical differences, in an already divided people, is to place obstacles in the way of public and individual happiness, which can only be obtained by bringing people together as a nation. Nothing inherent in Negroes prevents them from developing their souls as men, and nothing that happens to them can limit their innate ability.
This fat should be stated and demonstrated, for there is much injustice in this world and ignorant prejudice which passes for wisdom: there are still those who, in good faith, believe that Negroes are not capable of the same intelligence and courage as whites. It does not matter if you call this defense of Nature racism, because it is no more than natural honesty and heartfelt cry for peace and the country's well-being. It is alleged that slavery does not imply inferiority in the enslaved race, sine Gauls with blue eyes and blond hair were sold as serfs with shackles around their necks in the markets of Rome. This example helps make ignorant whites less prejudiced. Negroes have the right to maintain and prove that their color does not deny them any of the skills and rights of the rest of the human species.
More on http://www.historyofcuba.com/history/race/MyRace.htm
Cuban Models Underwater
---