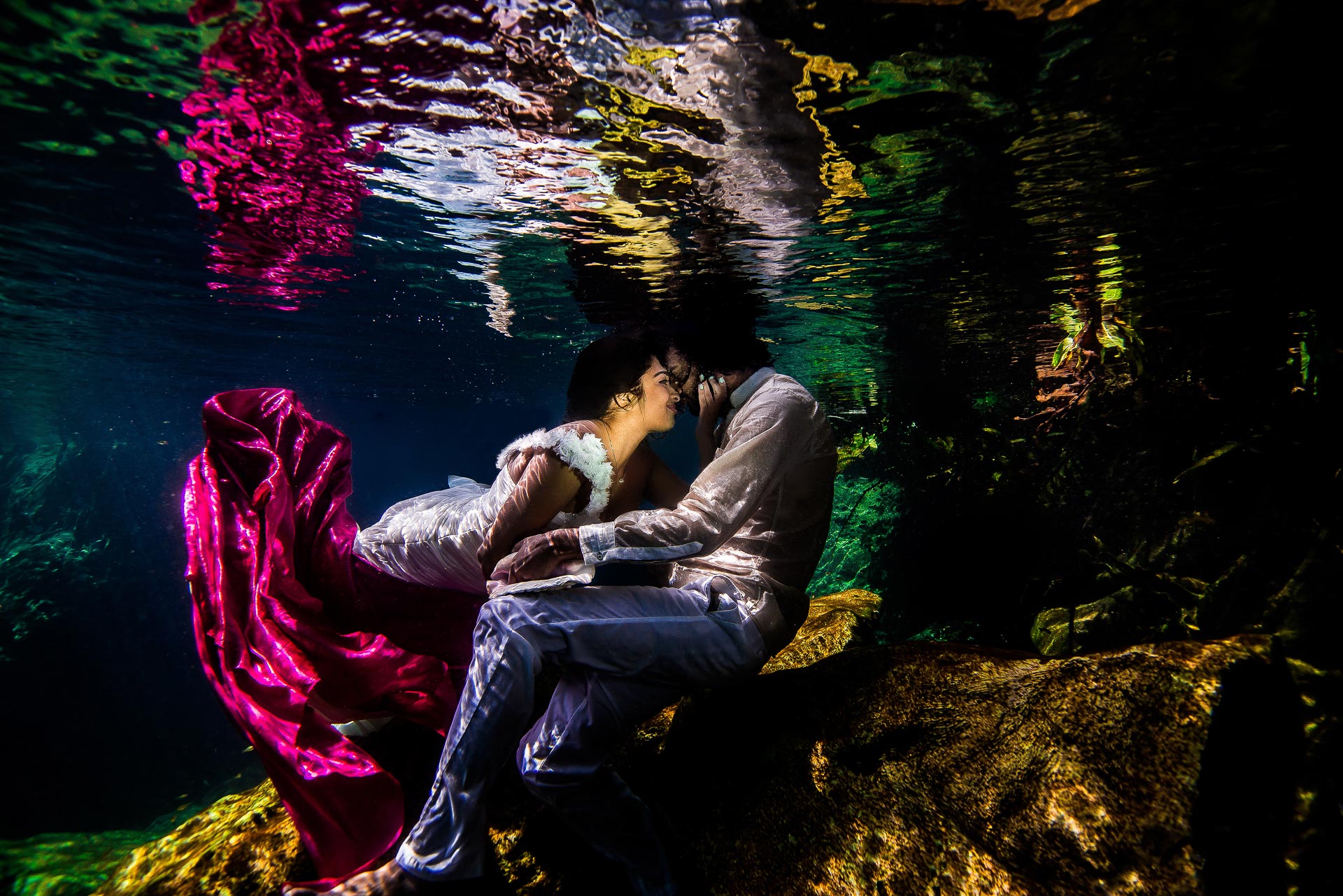 Engagement Photos Underwater
Engagement Photos Underwater – Millie and Rakesh – Millie contacted us few days before flying to Cancun for a destination wedding site inspection trip. She and Rakesh flew from Houston for a couple of days only, and were extremely motivated in joining us for an underwater photo shoot.
With a little adaptation of the schedules on both sides, we succeeded in arranging the photo shoot in a beautiful cenote, located few miles south to Playa del Carmen. The shooting was originally planned to be a little bit quicker than usual. However, as soon as they realized how magical the setting was, they did not care anymore of their plans for the rest of the day and let themselves go with no time pressure at all.
The fascination of flying underwater
The fascination of flying underwater, surrounded by the lush vegetation of the cenote, was irresistible. Being an engagement, not a post wedding Trash The Dress, Millie wore a beautiful red dress for the first part of the shoot. The result, above all underwater, was unusual but extremely pleasant.
As previously agreed, we had brought our own wedding dresses. So the second part of the photo shoot took place having Millie wearing a beautiful white wedding gown.
This is something we would like to underline. In spite of the fact that the dress won't be trashed but just washed, none of our brides (or brides to be) are obliged to wear their real wedding dresses. We have several dresses on hand and they are all available for free!
In this case a Trash The Dress can take place even before the wedding day and can also be arranged on your honeymoon or – as in the case of Millie and Rakesh. Even for an engagement.
Engagement Photos Underwater
The images can then be used for invitations or Thank You cards and/or for wedding websites as well.
Special thanks to Millie and Rakesh!
Their beautiful big Indian eyes were definitely an added value.
An here you will find a short "the making of" video clip, which is part of our YouTube Channel.
---