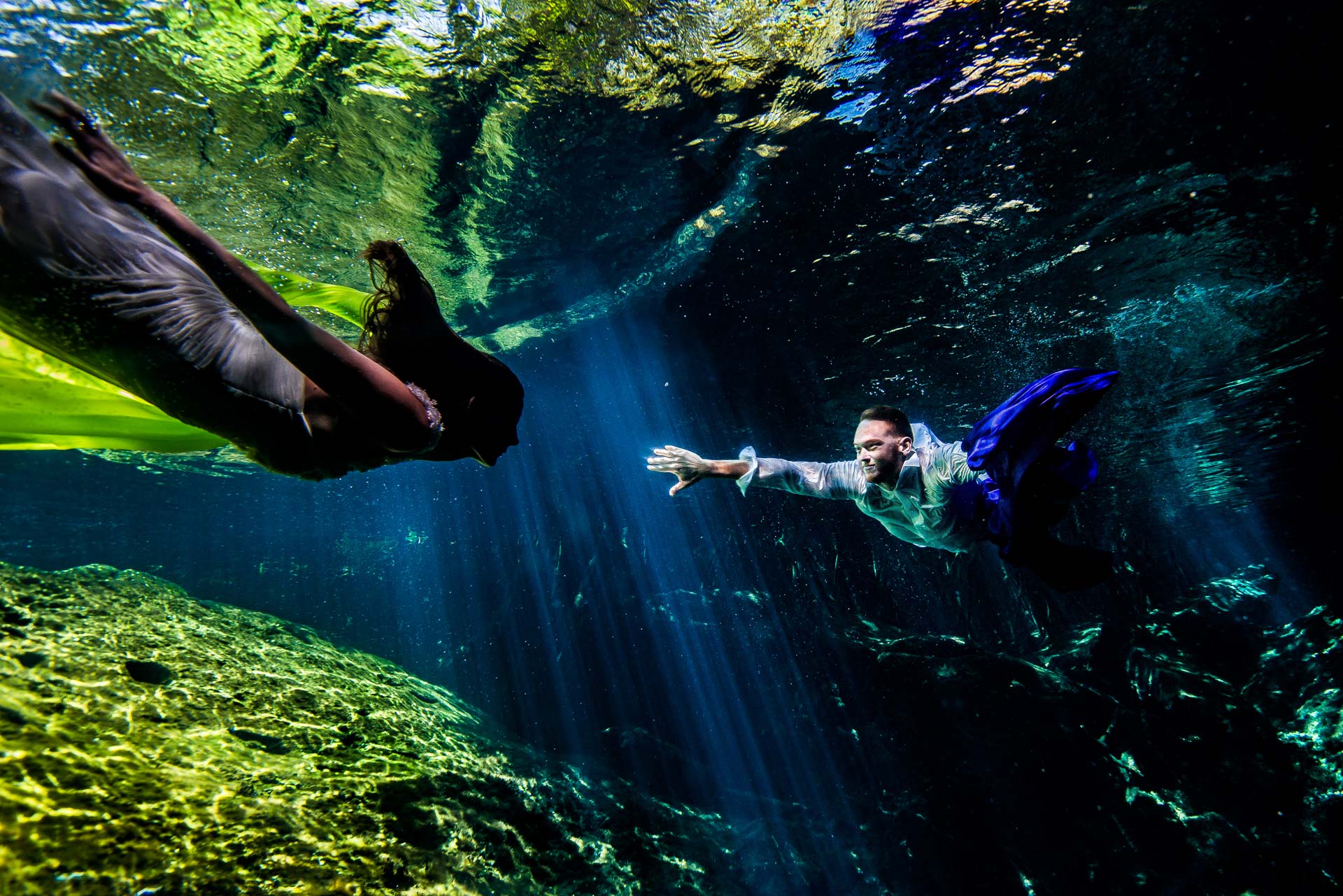 Fearless bridal underwater
Fearless bridal underwater photo shoot  – Directly from the Midwest Elisabeth and Thomas, a nice couple from Ohio, came to the Riviera Maya to get married at the Grand Sunset Princess of Playa del Carmen. Following a trend which is turning everyday more popular among newlyweds, they also decided to join a post-wedding photo shoot. The crystal clear water of a cenote, together with its lush vegetation, offers the best conditions for a once in a lifetime experience: An Underwater Trash The Dress shooting (aka Fearless bridal underwater photo shoot).
In spite of its name, during an Underwater Trash The Dress session, the wedding dress does not get trashed at all. It will be just washed and, at the end of the shooting, it will be much cleaner than it was at the end of…. the wedding day. Few hours hanging in the hotel's shower, full air conditioning to counterbalance the high air humidity of the Riviera Maya, will help to have the dress dry, clean and ready for the flight back home. Nevertheless, some brides are anyway scared of trashing their "expensive piece of clothing".  That's not a problem!
We have several wedding dresses available for free,
which we have brought upon request for our Fearless bridal underwater photo shoot session.  Elisabeth did not belong to this last category, so she decided to model with her own dress. It must be said, that since the first moment she was extremely comfortable. Thanks to her slender beauty, together with his lovely Thomas, she achieved many elegant images. Together with some "dry" shots, which are anyway part of our packages, all the images have been delivered several weeks after the shooting. Underwater pictures do need a very long and intense editing, much more complex than normal day light shots.
At the end, each image, originally dull and bluish, turns into a small surreal masterpiece.
---