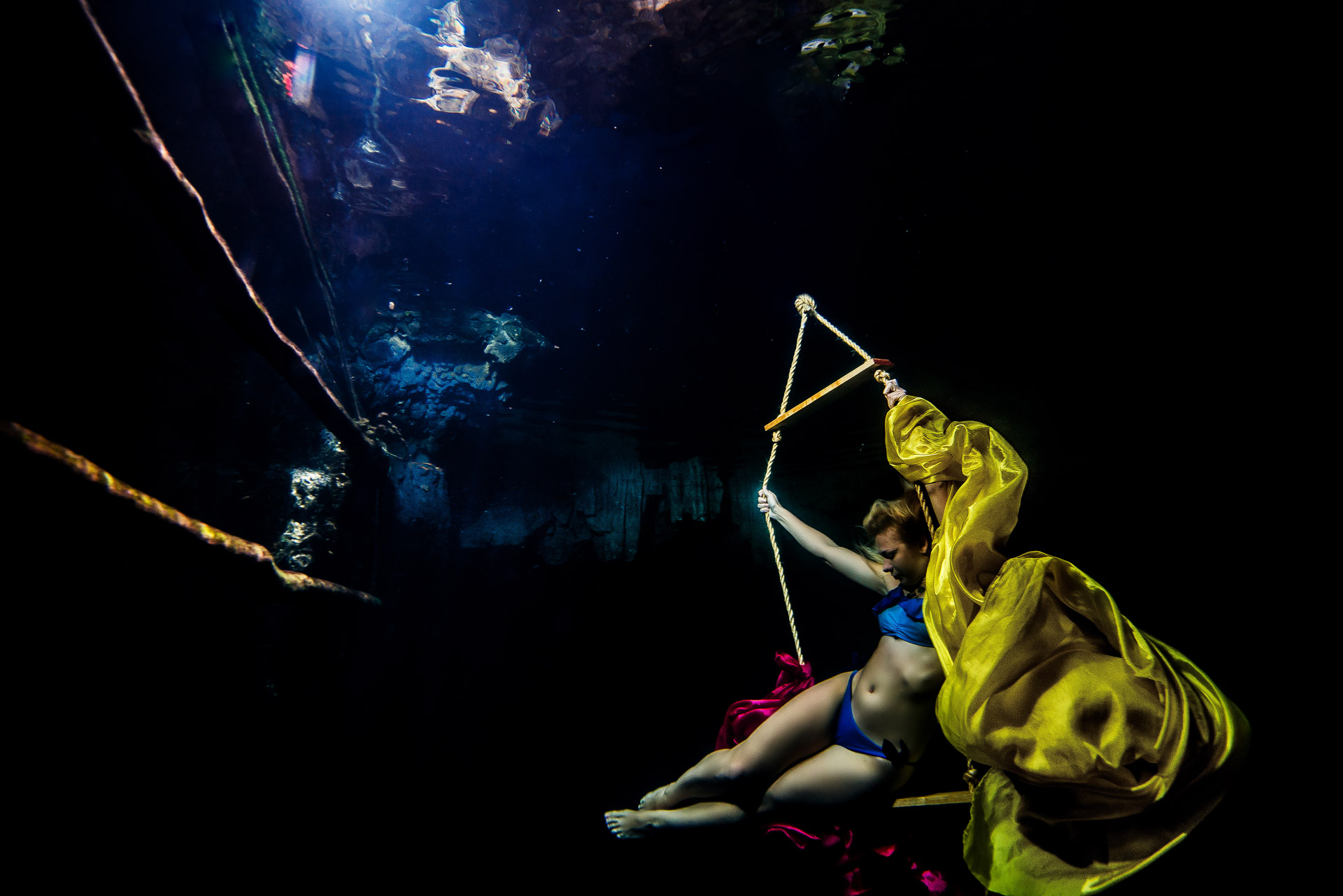 Posing Underwater in a cenote
Posing Underwater
Posing Underwater – Aleksandra Kierzek is a professional model from Poland, normally living and working in Milano and currently having a break in Mexico.
Few weeks before "crossing the Pond", she got in touch with us in order to arrange a shooting Underwater, which is something she had never done before.
Underwater photography is turning everyday more popular and including some underwater images in their portfolio is certainly an advantage for many professional models.
At the same time, I love working with them.  They are extremely easy to work with. All I need to give is just few hints or posing ideas I want to develop and they immediately start moving with all their professional elegance.
Aleksandra assured me she was a good swimmer. Since no long wedding dresses were part of the outfit, I decided to test a new cenote, which I knew was extremely deep (more than 300 feet).
Diving with a tank during an underwater photo session is my normal way of working. You know, carrying the whole dive equipment, which is heavy and bulky, is an extra hassle. But that's what I do for several reasons even in shallow water (which is the normal condition during all my Underwater Trash The Dress shootings).
In this case, due to the cenote's depth, in spite of Aleksandra's swimming skills, diving with a tank was a kind compulsory safety measure. Just in case something would have gone wrong…
But that was not the case…
Aleksandra was really a good swimmer and, as expected, she posed effortless since the first moment. As reference point and further compositional element, I used a wooden platform for the very first shots. Then we inserted a kind of self-made underwater swing, asking her to sit there. Later we all moved to the interior of the cenote, which is basically a large cave with a very low ceiling. An added value were some groups of beautiful stalactites as well several apertures in the ceiling. During sunny days – and it was a sunny day – amazing light columns cross down this mysterious underwater world, creating wonderful effects that you can spot in the last shots.
Dziękuję Aleksandra for this nice shooting, posing underwater…
---