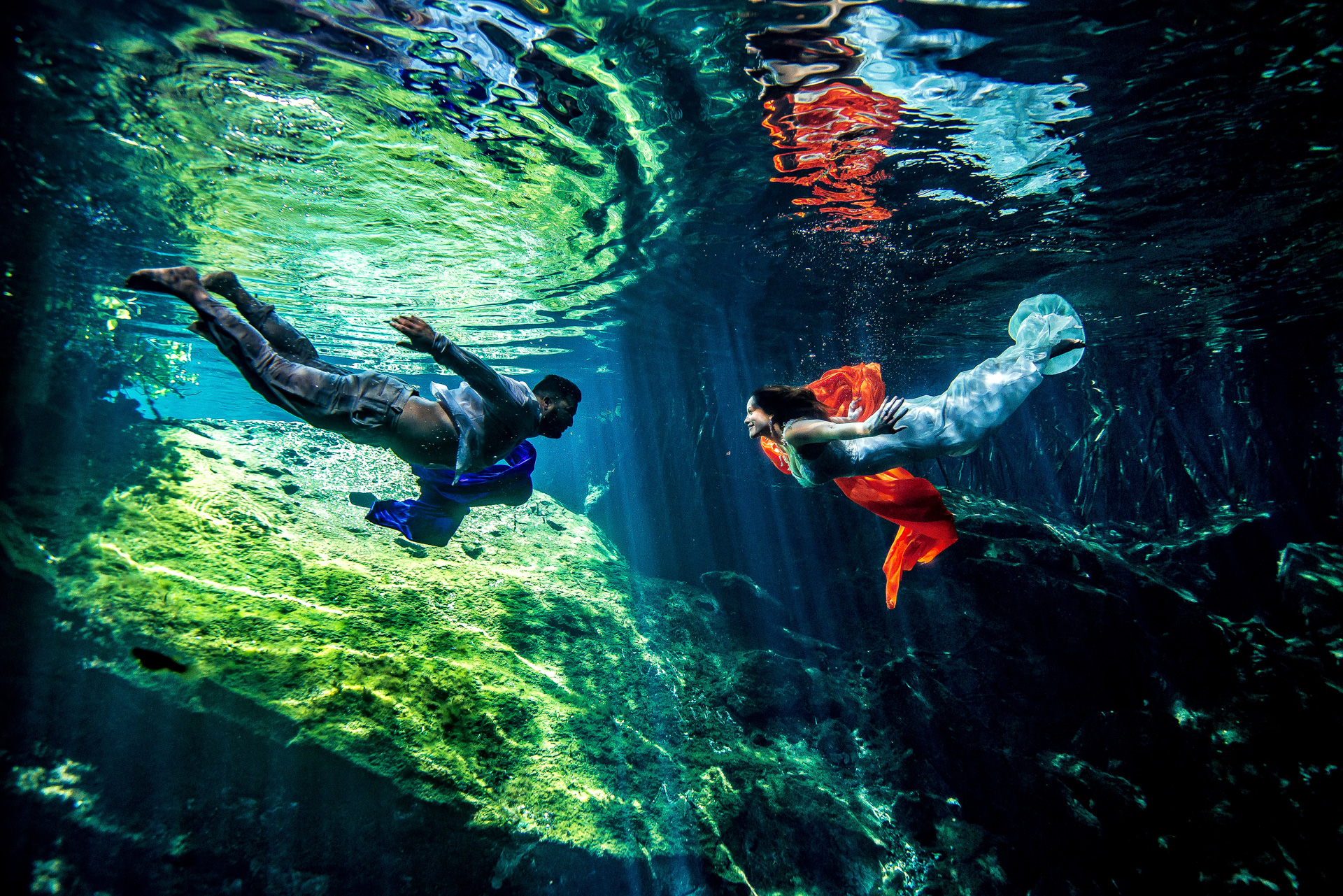 Underwater Trash The Dress Photos
Underwater Trash The Dress Photos Celebrating a wedding in Mexico was a kind of back to the roots for Cynthia and Jacob. They both live in Texas but their families are originally from Chihuahua, which – after all – lies on the border with Texas itself.
A couple of days after the wedding they joined us for their Underwater Trash The Dress photoshoot, that they had both been dreaming of for several months now.
As you can imagine, July and August are the hottest months of the year, also in this part of Mexico. Therefore, we love to start shooting very early in the morning when the temperature is not as high, however the humidity can still be as high as 90%, even at 08:00 am.
At that time is when the first part of our shooting normally begins and what we achieve are wonderful images of a beautiful and happy couple in the lush vegetation of cenotes. We call those first images "Dry", to differentiate them from the underwater trash the dress photos. Even if the climate is not that dry at all! That's why we try not to abuse our couples' kindness and keep it simple and quick.
They all appreciate it… 🙂
Thus, you will imagine how refreshing the "wet" – and THE longest – part of the shooting can be. after a few minutes for setting up the underwater equipment, we give a short briefing, then we can finally have a reinvigorating jump into the fresh (but certainly not cold) water of the cenote.
Underwater Trash The Dress photos, as well as with normal wedding photography; it's all about the bride, she is – and always will be – the main subject. even if the groom is basically always at her side and involved in most of the several poses as we portray them.
That's why we always start with solo bride images. They won't probably be the best images of the day but the aim is having her get acquainted to pose underwater with her wedding dress, which is certainly not the most comfortable swimsuit! However, after a few minutes of testing, everyone starts enjoying what they are doing.
Basically, at the end of a session of Underwater Trash The Dress shoot, both bride and groom turned into perfectly skilled underwater models. A good reason to plan another shooting for their anniversary!!!
That's what we wish for Cynthia and Jacob!
---