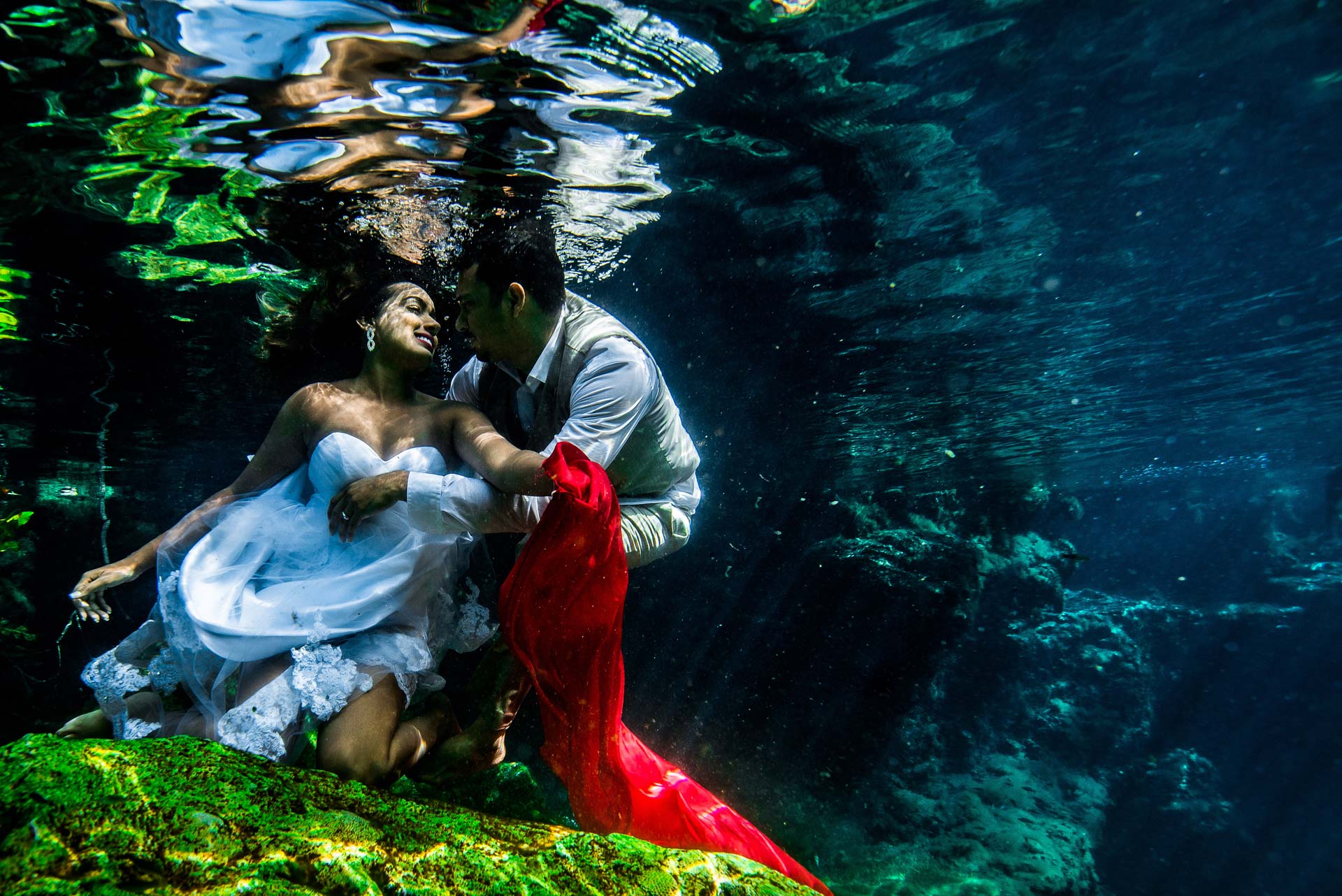 Wedding underwater pictures
Wedding underwater pictures – Sumeshni and Thiago – Adding underwater wedding pictures to the normal, classical images is constantly turning into a growing trend. Every year more and more couples decide to join underwater trash the dress sessions. Many of them just came across some colorful and eye-catching images in Google. Some others have had friends who HAVE joined an underwater shooting and decide to do the same.
In some occasions we have seen our pictures hanging on the walls of the houses of our couples (consider customers). This was truly rewarding…
Basically everyone can join our shootings with the basic requirements; remove contact lenses, use waterproof makeup, an average ability to swim is required and… you are ready to go.
The cenote water is refreshing
and after some time spent shooting standard "dry" images on land in the lush vegetation of the cenote, diving in is probably the most rewarding moment of the day.
Statistically, ten to fifteen minutes are more than enough to get used of being in the water and modelling in clothes. So, after some basic posing, step by step more challenging poses are introduced without any special effort.
Since everyone is really enjoying what we are doing, we completely adapt to our couples' skills, so that the whole time the shooting goes by having lots of fun.
Furthermore, Sumeshni's beauty was something pretty uncommon. Together with Thiago's pleasantness it made the whole shooting really fascinating.
That being said, this shooting was a further proof on how more heterogeneous the world is turning year by year. Thiago is from Brasil, Sumeshni is an Indian Tamil charming girl born in South Africa, they got married in Mexico and live now in Texas. These are things that continue to amaze me. The concept of belonging to an ethnic group or a culture seems the legacy of a now distant past.
---